Today I want to show you 5 interesting ideas found on Pinterest. Some are more real, some are less, let's get started! 🙂
1. Smart mirror
More than once, we could see such mirrors in many film productions. Recently, I saw such a vision in the "Black Mirror" series. I think that such mirrors are very close to the future. In my opinion, this is a fantastic idea, because, during even brushing teeth, we could see a movie on such a mirror that would make the time of brushing teeth longer. I speak from experience because since I started watching videos on youtube on a smartphone in the bathroom, I spend more time cleaning the teeth thoroughly.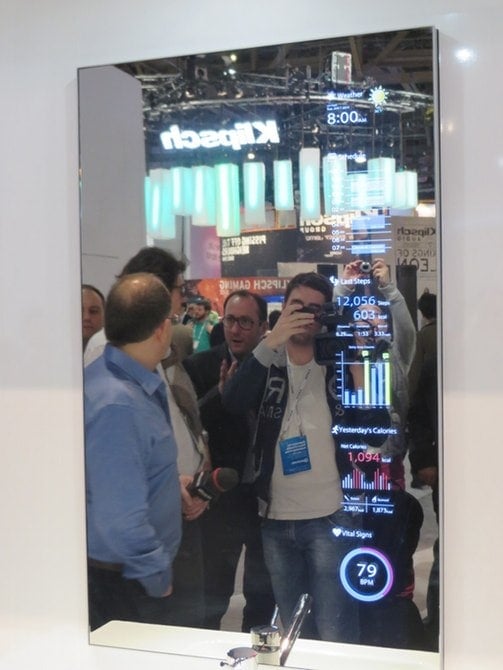 I think that such mirrors would help us in many other matters, for example, they could scan our face in order to choose the right cosmetics, at the same time ordering them, of course with our permission. Another idea of how such a mirror could affect our lives, is a calendar built into them, reminding us of important events, the remainder would have to be really blunt because we are not always aware of everything in the morning, right? 🙂
Source: Two Way Mirrors
2. The Big Bend
This idea is very interesting to me. The building of an inverted U-shape will certainly be the most amazing project in the world. What's more, precise plans for its implementation have already been created. The construction is planning to be 4,000 feet high. However, the best solution will be to create an elevator that would move both vertically and horizontally. Such a building will undoubtedly be very expensive, but I think that the location (Manhattan) and the originality of the building will attract many investors, ready to trust the creators.
Source: Oiiostudio
3. Armband phone
Smartwatches are not as popular as we thought they would be. However, not everything is lost yet. I found a very nice project that has a good chance of success in the near future. Currently, the biggest problem that does not allow to build such a smartwatch is a flexible screen and a sufficiently capacious, flexible battery, but I think it is a matter of a few years. Prototypes of curving screens are slowly beginning to appear, so in the near future, we will probably have the opportunity to test this type of device.
Source: Pinterest
4. Interactive bracelet / mp3 player
Magnificent look + great functionality, that's what comes to mind when I look at this photo. Unfortunately, there are no such bracelets on the market yet, but I would be one of the first people to buy one if it appeared. The vision of practicing a sport and listening to music without thinking about the fact, that we have a player with us is fantastic. Headphones connected wirelessly with the player would be a great solution and many athletes would be delighted, which is why I really hope that in a few years such devices will appear on sale.
Source: Wanelo
5. Cicret
Recently, a friend sent me this video. I was very excited when I saw this because I thought that such a product already exists. Unfortunately, the movie turned out to be only a very well-made author's vision. I think that such a bracelet would be an absolute hit. Unluckily, there are many technical obstacles at the moment, that make it hard to build such a bracelet properly. The authors have already built the first version, which will certainly be gradually refined and we hope that in the near future the video from Youtube will become a reality.
Source: Cicret
Do you think that these ideas have a chance of success? Just register on my website and write below 🙂 Check also "About me" page, to get to know me better.
Thanks for reading, peace! 🙂